KWB Combifire combines the traditional woodlog heating with the comfort of a fully automatic pellet heating. Combifire is available in the sizes 18/28 kW with woodlogs and 22/30 kW with pellets. This combi boiler is the ideal heating solution for one- and two-family houses and farms.

The pellet burner is proven and can be equipped with various transport system for pellets. The Classicfire woodlog boiler is factory equipped with an optional pellet flange and can be upgraded to a Combifire on the pellet module at any time.
The boiler requires minimal maintenance between service intervals, which is ensured by the automatic cleaning of the convection tubes. An convenient and automatic cleaning of the burner is optional, where the ashes are fed to an ash container. The boiler automatically switches between woodlogs heating and pellet heating. Even if the boiler has two separate combustion chamber it has common flues, which provides a high combustion with low emissions. The combi boiler Combifire is equipped with the control system Comfort 4 that allows for easy and flexible control of the heating system and also provides remote access via the Internet.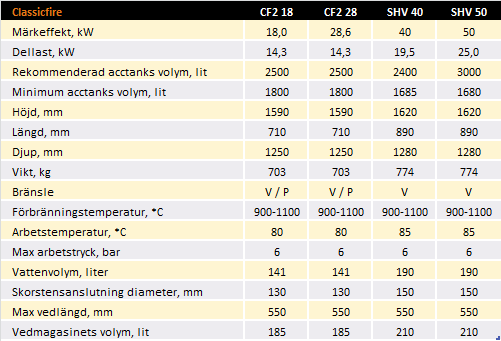 Note! Data on thermal boiler capacity is approximate and may vary depending on the buildings' actual insulation value.