BioTec, our ceramic wood boilers are safe and reliable. The wood gasification principle ensures almoste complete burning of the wood, which means minimal effort when cleaning the boiler. The boiler design and engineering along with gasification principle ensures a high efficiency, which makes the boiler very economical and environmentally friendly. Tested and certified according to European standard EN 303-5 and are manufactured in accordance with ISO 9001: 2008. It guarantees good quality and long life.

The boiler is designed for wood-fired heating of small and medium-sized properties and the boiler is advantageously connected to a storage tank. The generous boiler firewood box can take logs up to 550mm long and a filling ensures a minimum of four hours of light at nominal power rating. The boiler is equipped with a suction exhaust fan which is controlled by the integrated controller. The controller is able to control up to two pumps that can be used, for example, two storage tanks for comfort. The controller has a room thermostat which also indicates when the filling of the magazine is necessary. The wood boiler BioTec are in nominal effects 25kW, 35kW and 45kW.
technical info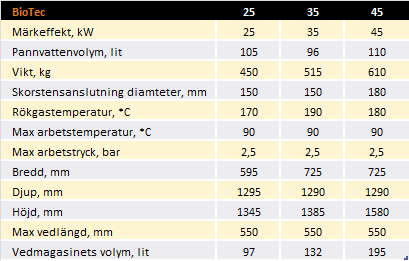 Note! Data on thermal boiler capacity is approximate and may vary depending on the buildings' actual insulation value.