KWB Classic Fire combines the traditional advantages woodlog heating with the amenities of a modern heating system. The boiler can be equipped with automatic ignition so that the pleasant warmth awaits you when you come home. A lambda sensor ensures high combustion quality and very low emissions.



This boiler is ready to be equipped with a pellet module, which allows it to be upgraded to a Combifire at a later date. The boiler can advantageously be connected to a storage tank where the heat generated comes to optimal use and the system gets a high efficiency. Classicfire woodlog boiler is equipped with the control system Comfort 4 that allows for easy and flexible control of the heating system and also provides remote access via the Internet.
This boiler gives you maximum comfort with a large firewood box. The boiler can be filled with 185 liters of woodlogs, longitudinally with 50cm logs and in the cross direction with 30cm logs. The boiler comes in the effects 18kW and 28KW.
https://www.youtube.com/watch?v=OMz0bBkpb54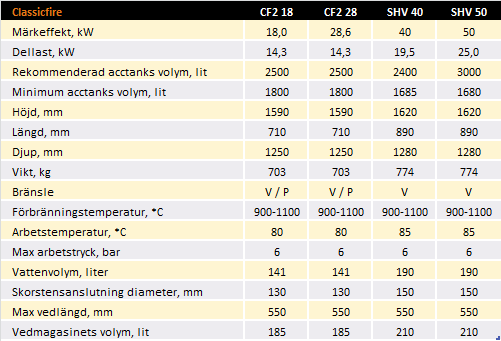 Note! Data on thermal boiler capacity is approximate and may vary depending on the buildings' actual insulation value.